Livestock marketing in six auctions in Costa Rica from 2007 to 2013.
Keywords:
Cow, bulls, selling price, cattle, male/female relationship, sales category.
Abstract
Changes in sale and purchase of livestock allow identification of the type of animal that producers want, variations in supply and demand, and their impact on price. To understand this for Costa Rica, we analyzed the number and sales prices of auctioned livestock from 2007 to 2013. Information provided by the auctions included location, date, number of animals, sex, weight, marketing category and price. Auction was a highly significant variable (p <0.0001) for the number of animals. More females (66%) were sold. Producers look for males between 151-350 kg of body weight and 350-500 kg females. Males were 0,22 $ more expensive (average) and prices were higher in June and July.
References
CORFOGA. (2000).Censo bovino. Ministerio de Agricultura y Ganadería. Costa Rica.
CORFOGA. (2012). Estudios de subasta ganaderas. Cadena de estudios de comercialización. Corporación Ganadera. 101 p.
CORFOGA. (2014). Cantidad de animales cosechados según género (cabezas de animales). Periodo 2006-2014. Archivo Excell. Información de mercados. Estadísticas de cosecha. Corporación Ganadera. Disponible en www.corfoga.org
Cubero-Rojas, R., Mora-Peraza, E., WingChing-Jones, R., & Calderón-Villaplana, S. (2013). Maduración del solomo (Biceps femoris) en vacas de descarte Bos indicus y Bos taurus. Agronomía costarricense 24(2):433-440.
Hidalgo, J. (2009). Márgenes de comercialización de la carne bovina. Ministerio de Economía, Industria y Comercio. San José, Costa Rica. DICOM-INF-016-09
La Gaceta. (2009). Reglamento de funcionamiento y comercialización de ganado en pie; pp: 2-6, IN: Diario Oficial.
La Gaceta Digital N°21. Imprenta Nacional. Uruca, San José, Costa Rica, viernes 30 de enero del 2009. 72 p.
López, M., WingChing-Jones, R., & Rojas-Bourrillón A.. (2009). Características fermentativas y nutricionales del ensilaje de rastrojo de piña (Ananas comosus). Agronomía Costarricense 33(1):1-15.
Molina, R., Arroyo, C., Molina, J., & WingChing-Jones, R. (2014). Causas de cosechado y características de hembras bovinas (Bos taurus, Bos indicus, Artyodactila: Bovidae) cosechadas en planta en Costa Rica del 2008 al 2009. Cuadernos de investigación UNED 6(1):75-80.
Morales, R. (2009). El impacto de la crisis económica mundial sobre la economía costarricense: los efectos macroeconómicos. Economía y Sociedad 35-36:61-73. Enero –Diciembre.
Retana, J., & Rosales, R. (2000). Impacto de la fase calidad del ENOS (El Niño-Oscilación del Sur) sobre algunas variables productivas del ganado de carne en Costa Rica. Tópicos Meteorológicos Oceanográficos 7(1):1-220
Ríos, N. 2009. Caracterización de la agrocadena de carne bovina en la zona sur de Costa Rica. Proyecto Agrosilvopastoril. Costa Rica. 29 p.
Rojas-Bourrillón A., WingChing-Jones R., & Rosales-Rodríguez R. (2003). Desarrollo e implementación de estrategias para el manejo nutricional de la ganadería de carne en la región Brunca de Costa Rica. Suplementación energética–proteíca de toretes y hato de cría. Informe Final Proyecto VI-739-A2-501. Universidad de Costa Rica. Costa Rica. 22 p.
Rosenthal, G. (2010). La crisis financiera y económica de 2008 y su repercusión en el pensamiento económico. Revista Cepal 100:29-39.
SAS. (2003). SAS 9.1.3 for Windows. Service Pack 4. Win_Pro plataforma. Copyright © 2002-2003 by SAS Institute Inc. Cary NC. USA.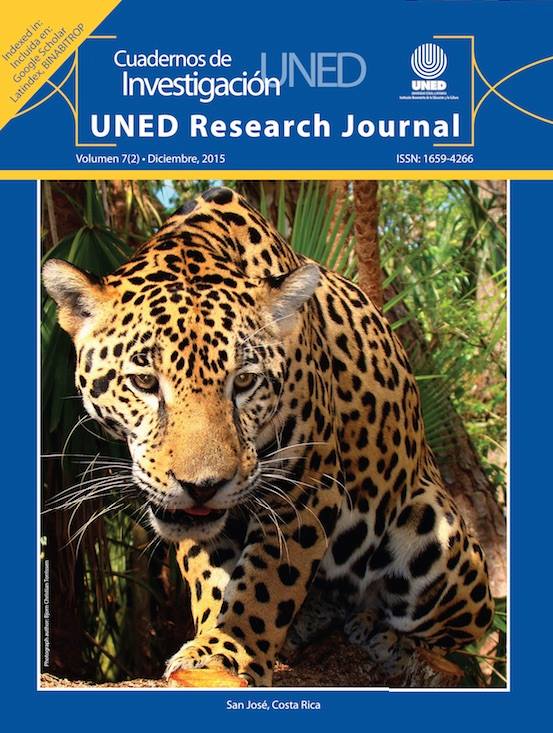 How to Cite
WingChing-Jones, R., & Rodríguez- Rodríguez, P. (2015). Livestock marketing in six auctions in Costa Rica from 2007 to 2013. UNED Research Journal, 7(2), 173–180. https://doi.org/10.22458/urj.v7i2.1143
License
Copyright is shared by the authors and the journal; contents can be reproduced if the source and copyright are acknowledged according to the Open Access license CC BY 4.0. Self-storage in preprint servers and repositories is allowed for all versions. We encourage authors to publish raw data and data logs in public repositories and to include the links with all drafts so that reviewers and readers can consult them at any time.
The journal is financed by public funds via Universidad Estatal a Distancia and editorial independence and ethical compliance are guaranteed by the Board of Editors, UNED. We do not publish paid ads or receive funds from companies.