La viuda negra en Costa Rica: Información general
Palabras clave:
Latrodectus geometricus, Lactrodectismo, Expansión de ámbito, Uso de hábitat.
Resumen
La viuda café (Latrodectus geometricus) ha sido probablemente introducida a América desde la región mediterránea de África. Desde su llegada a Costa Rica, esta especie ha expandido su distribución rápidamente colonizando prácticamente todas las zonas urbanas y sub-urbanas del Valle Central, hasta una elevación de 1600 m sobre el nivel del mar. La viuda café construye telas tridimensionales en forma de maraña pegadas a las paredes, bajo puentes, bajo sillas u otros muebles e inclusive dentro de las casas. Esta especie ha llegado a ser muy abundante en el país y los encuentros con humanos son frecuentes, debido a su preferencia de hábitat. La viuda café muestra la tendencia de esconderse dentro del refugio de seda que construye en su tela con el menor disturbio (por ejemplo: caída de hojas o humanos que rocen la tela). Por lo tanto, este comportamiento evasivo y la baja toxicidad del veneno de la viuda café comparado con el veneno de otras viudas negras, reduce (pero no elimina) la probabilidad de accidentes a humanos causados por esta especie, a pesar de su gran abundancia.
Citas
Barrantes, G. & Eberhard, W. G. (2010). Ontogeny repeats phylogeny in Steadoda and Latrodectus spiders. Journal of Arachnology, 38: 485–494. Bristowe, W. S. (1958). The world of spiders. London, Collins.304 p.
de Souza, A. R. B., Bührnheim, P. F. & Lima, C. S. C. (1998). Relato de um caso de latrodectismo ocorrido em Manaus, Amazonas, Brasil. Revista da Sociedade Brasileira de Medicina Tropical 31: 95-98.
Clark, R. F., Wethern-Kestner, S., Vance, M. V. & Gerkin, R. (1992). Clinical presentation and treatment of Black Widow Spider envenomation: a review of 163 cases. Annals of Emergency Medicine, 21: 782–787.
Diaz, J. H. (2004). The global epidemiology, syndromic classification, management, and prevention of spider bites. American Journal of Tropical Medicine and Hygiene, 71: 239–250.
Eberhard, W. G., Barrantes, G. & Madrigal-Brenes, R. (2008). Vestiges of an orb-weaving ancestor? The "biogenic law" and ontogenetic changes in the webs and building behavior of the black widow spider Latrodectus geometricus (Araneae: Theridiidae). Ethology Ecology and Evolution, 20: 211–244.
Garb, J. E., Gonzales, A. & Gillespie, R. G. (2003). The black widow spider genus Latrodectus (Araneae: Theridiidae): phylogeny, biogeography, and invasión history. Molecular Phylogenetics and Evolution, 31: 1127–1142.
Gertsch, W. J. (1949). American spiders. New Jersey, USA: D. Van Nostrand Company, Inc.285 p.
Gertsch, W. J. & Ennik, F. (1983). The spider genus Loxosceles in North America, Central America, and the West Indies (Araneae, Loxoscelidae). Bulletin of the American Museum of Natural History, 175:264–360.
Isbister, G. K. & Fan, H. W. (2011). Spider bite. Lancet DOI:10.1016/S0140-6736(10)62230-1
Kiriakos, D., Núñez, P., Parababire, Y., García, M., Medina, J. & de Sousa, L. (2008). First case of human latrodectism in Venezuela. Revista da Sociedade Brasileira de Medicina Tropical, 41: 202-204.
Levi, H. W. & Levi, L. R. (1968). Spiders and their kin. New York, USA: St. Martin's Press. 160 p.
Maretic, Z. (1975). European araneism. Bulletin of the British Arachnological Society, 3: 126–130.
Nentwig, W. & Kuhn-Nentwig, L. (2013). Spider venoms potentially lethal to humans, p. 253–264. In W. Nentwig (ed.). Spider ecophysiology. Springer, Berlin, Germany.
Timms, P. K. & Gibbons, R. B. (1986). Latrodectismeffects of the Black Widow spider bite. West Journal of Medicine, 144: 5–31.
Trejos, A., Trejos, R. & Zeledón, R. (1971). Aracnidismo por Phoneutria en Costa Rica (Araneae: Ctenidae). Revista Biología Tropical, 19: 241–249.
Valerio, C. E. (1983). Sobre la presencia de Phoneutria boliviensis (F. O. P Cambridge) (Araneae, Ctenidae). Journal of Arachnology, 11: 101–112.
Vetter, R. S. (2008). Spiders of the genus Loxosceles (Araneae, Sicariidae): a review of biological, medical and psychological aspects regarding envenomations. Journal of Arachnology, 36:150–163.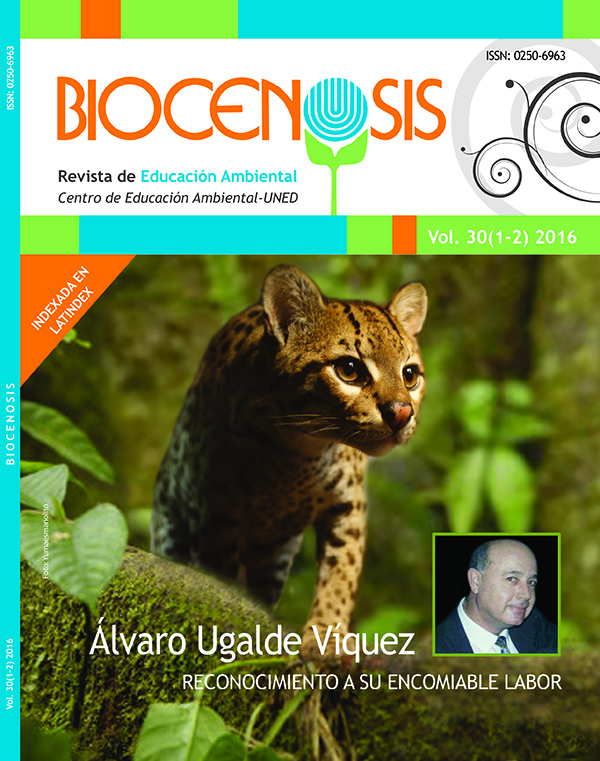 Descargas
Cómo citar
Barrantes Montero, G. (2016). La viuda negra en Costa Rica: Información general. Biocenosis, 30(1-2). Recuperado a partir de https://revistas.uned.ac.cr/index.php/biocenosis/article/view/1429