Personnal, occupational and geographical satisfaction in the staff of a state university in Costa Rica: effect of sex, marital status, age and educatio
Keywords:
quality of life, happiness, well-being, subjective-cognitive perception, goals, achievements.
Abstract
Satisfaction is determined by a set of external and internal factors of the individual, experiences, culture and the environment; it changes with goals and achievements. Here I analyze the results of an online survey of 1000 institutional email users from a public university in Costa Rica. Men are more satis ed with life in general and single, widowed or divorced people are less satis ed than those living with a partner. The greatest satisfaction is associated with tenure, being over 31 years old and having a high academic degree. Overall satisfaction is medium-high which is consistent with other local studies. 
References
Alonso, P.M. (2006). Diferencias en la percepción de la satisfac- ción laboral en una muestra de personal de administra- ción. Boletín de Psicología, 8: 49-63.
Barrientos, J. (2005). Calidad de vida, bienestar subjetivo: una mirada psicosocial. Universidad Diego Portales, Santiago, Chile.
Cardona, D. & Agudelo, H. (2007). Satisfacción personal como componente de la calidad de vida de los adultos de Medellín. Revista Salud Pública, 9 (4).
Clemente, C.A; Molero, M.R. & González, S. F. (2000). Estudio de la satisfacción personal según la edad de las personas. Revista Canales de psicología; 16 (2): 189-198.
Díaz, G. (2007). La mujer en edad mediana y su satisfacción con la vida en poblaciones cubanas. Revista Cubana de Medicina General Intregal, 23 (1).
García Martín,M.A.(2002): Desde el concepto de felicidad al abordaje de las variables implicadas en el bienestar sub- jetivo: un análisis conceptual. Educación física y deportes: Revista Digital, 8(48).
Herrera-Amaya, G. & Manrique-Abril, F.G. (2008). Condiciones laborales y grado de satisfacción de profesionales de enfermería. Aquichán, 8(2): 243-256.
Meléndez, J.C, Navarro, E, Oliver, A. & Tomás, J.M. (2009). Satisfacción vital en los mayores, factores sociodemo- grá cos. Boletín de Psicología, 95.
Moyano, D. E. & Ramos, A.N. (2007). Bienestar subjetivo: mi- diendo satisfacción vital, felicidad y salud en población chilena de la Región Maule. Revista Universum (Talca), 22 (2): 177-193.
Pedraza, E.; Amaya, G. & Conde, M. (2010). Desempeño labo- ral y estabilidad del personal administrativo contratado de la Facultad de Medicina de la Universidad del Zulia. Revista de Ciencias Sociales, 16: 493-505.
Peterson, S. (1991). No te preocupes, se feliz: Satisfacción con la vida y la política. Revista Psicología Política, 3: 65-75.
Pinquart,M.-Sorensen,S.(2001): Gender di erences in self con- cept and psychological well being in old age: A meta- analysis. Journal of Gerontology, 56: 195-216.
Rojas, M. (2008). Decimocuarto Informe Estado de la Nación; Informe Final, Bienestar Subjetivo en Costa Rica. Disponible en: http://www.estadonacion.or.cr/ les/bi- blioteca_virtual/014/Bienestar-subjetivo-Rojas-2008. pdf
Stack, S. & Eshleman, R. (1998). Marital status and happiness: A 17–nation study. Journal of marriage and the family, 60 (2): 527-536.
Tejedo, E. (2013). Satisfacción laboral y su relación con variables sociodemográ cas y laborales y con parámetros de ries- go cardiovascular en trabajadores de Baleares. Medicina Balear 28 (2): 29-34.
The Sustainable Development Solutions Network. (2013). World Hapinness Report. Disponible en: www.unsdsn.org.
Uchida, Y., Norasakkunkit. V. & Kitayama, S. (2004). Cultural constructions of happiness: Theory and empirical evi- dence. Journal of Happiness Studies, 5: 223-229.
Universidad de Costa Rica. (2012). Resultados de la encuesta Actualidades 2012. Disponible en: www.estadistica.ucr. ac.cr.
Universidad de Palermo-TNS Gallup. (2012). Estudio sobre fe- licidad. Disponible en: http://www.palermo.edu/econo- micas/PDF_2012/INFORME_TNS_UP_FELICIDAD_III.pdf
Urzúa, M.A. & Caqueo-Urízar. A. (2011). Calidad de vida: una re- visión teórica del concepto. Revista Terapia Psicológica, 30 (1): 61-71.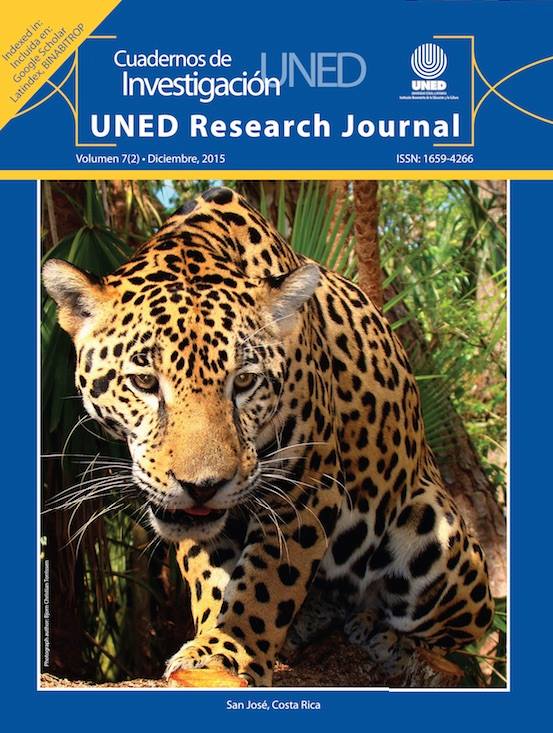 How to Cite
Arce Espinoza, L. (2015). Personnal, occupational and geographical satisfaction in the staff of a state university in Costa Rica: effect of sex, marital status, age and educatio. UNED Research Journal, 7(2), 151–155. https://doi.org/10.22458/urj.v7i2.1139
License
Copyright (c) 2022 UNED Research Journal
This work is licensed under a Creative Commons Attribution 4.0 International License.
Copyright is shared by the authors and the journal; contents can be reproduced if the source and copyright are acknowledged according to the Open Access license CC BY 4.0. Self-storage in preprint servers and repositories is allowed for all versions. We encourage authors to publish raw data and data logs in public repositories and to include the links with all drafts so that reviewers and readers can consult them at any time.
The journal is financed by public funds via Universidad Estatal a Distancia and editorial independence and ethical compliance are guaranteed by the Board of Editors, UNED. We do not publish paid ads or receive funds from companies.