Adherence and its impact on the reduction of lipid peril of patients seen in the form of telemedicine at a state university in Costa Rica
Keywords:
Telemedicine, dyslipidemia, cardiovascular risk, lipid disorders, treatment adherence, lifestyle.
Abstract
Cardiovascular disease is the leading cause of morbidity and mortality worldwide. Costa Rica is no exception, with high levels of cholesterol and triglycerides in all age groups, and lack of adherence to treatment as one of the main challenges. We analyze the variation in test results of lipid pro le in one control and one telemedicine group in the staff of a Costa Rican university. We followed 62 patients aged 20-70 years, with tests done after fasting 12 hours, and 6 months to a year between samples. A questionnaire was used to calculate rates of factors that affect the variation in laboratory results. The patients had greater commitment to self care in the telemedicine group, achieving a reduction in total cholesterol levels, with little or no variation in other lipoproteins, and a slight increase in triglyceride levels.
References
Arce, L. & Monge, J. (2009). Género y niveles de adherencia al tratamiento antihipertensivo en el personal de la Universidad Estatal a Distancia de Costa Rica. Revista Cuadernos de Investigación UNED, 1:162-170.
Comisión Económica para América Latina y el Caribe- Sociedad Española Informática de la Salud. (2011). Manual de sa- lud electrónica para directivos de servicios y sistemas de salud, Capítulo XII: Salud móvil en atención primaria. Organización de las Naciones Unidas, 273-282.
Cranen, K., Huis, R., Ijzerman, M., Vollenbroek-Hutten, M., Liebert, M. (2011). Change of Patients' Perceptions of telemedicine after Brieft Use. Revista Telemedicine and health 531 (7):17.
Doolittle, G. & Spaulding, R. (2006). De ning the needs of Telemedicine service. Journal of Telemedicine and Telecare, 12: 276-284.
Información Farmacoterapeútica de la Comarca. (2011). Adherencia al tratamiento farmacológico en patologías crónicas. INFAC, 19 (1): 1-6.
Martín, A. (2006). Repercusiones para la salud pública de la adherencia terapéutica de ciente. Revista Cubana de la Salud Pública, 32 (3): 10-20.
Martín, A., L. & Grau, A. (2004). La investigación de la adheren- cia terapéutica como un problema de la psicología de la salud. Psicología y salud, 14 (1): 89-99.
Monge, R., Muñoz, L., Faiges, F., Rivero, A. & Alvarado, J. (1997). Per l lipídico de adolescentes urbanos costarricenses. Revista Costarricense de Ciencias Médicas, 18 (2): 37-44.
Morales-Morales, M. Medina, C. & Lara, L. (2001). Estudio del per l lipídico en niños y adolescentes descendientes de padres con o sin antecedentes patológicos. Boletín mé- dico de postgrado, 17 (4): 207-213.
Osorio, C., Cristancho, J., Pedreros, F. L., Martín, M.L., Matiz, C. H. & Vega, L. R.Telemedicina aplicada a la valoración del riesgo cardiovascular: experiencia en el Hospital María Angelines de Puerto Leguízamo, Putumayo. 2013. Ciencia e innovación en salud, 1 (2): 95-100.
Ortiz, M. & Ortiz, E. (2007). Una clave para entender el fenóme- no de la adherencia terapéutica. Revista Médica de Chile, 135: 647- 652.
Programa nacional de educación sobre el colesterol. (1993). Resumen del III informe del Panel de Expertos sobre Detección, evaluación y tratamiento de la hiperco- lesterolemia en adultos. Journal American Medical Association; 269 (23): 3015-3023.
Rabanales, S.J., Párraga, M.I., López- Torres, H.J., Pretela, F.A. & Navarro, B. B. (2011). Tecnología de la información y las comunicaciones: Telemedicina. Revista Clínica Médica Familiar, 4 (1), 42-48.
Rodríguez, B. & Vélez, R. (2010). Relación entre per l lipídico e índices de masa corporal en estudiantes universitarios del INTEC. Ciencia y Sociedad, 35: 371-385.
Roselló-Araya, M., Guzmán-Padilla, S. & Bolaños-Arrieta, M. (2001). Efecto de un programa de rehabilitación cardía- ca en la alimentación, peso corporal, per l lipídico y el ejercicio físico de pacientes con enfermedad coronaria. Revista Costarricense de Cardiología, 3 (2): 15-20.
Sanns, M., S. (2006). Programa de formación de formadores en perspectiva de género en salud: Enfermedades cardiovasculares. Ministerio de Sanidad y Consumo, Observatorio de Salud de la Mujer, 1-22.
Tomasi, E., Augusto-Facchini, L. & Santos-Maia, M., (2004). Health information technology un primary health care in developing countries: a literature review. Revista Bulletin of the World Health Organization. 23 (1).
Viloria, N.V., Cardona, P.J & Lozano, G.C. (2009). Análisis compa- rativo de tecnologías inalámbricas para una solución de servicios de telemedicina. Revista Ingeniería & Desarrollo, Universidad del Norte. 25: 200-217.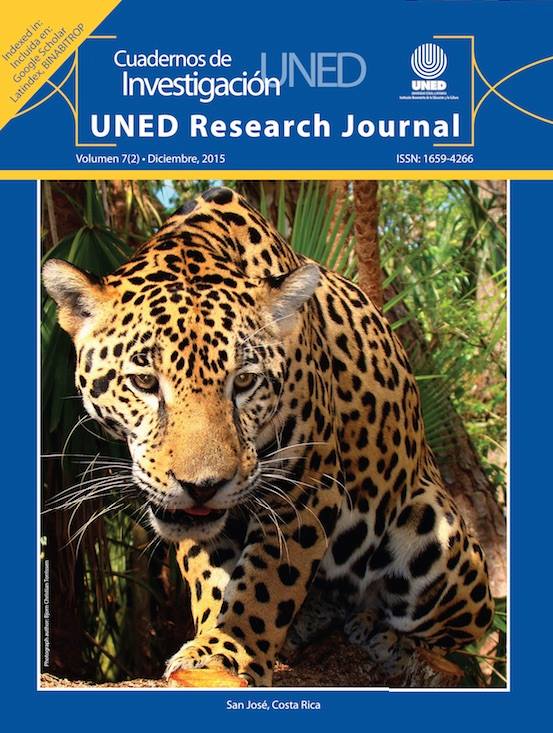 How to Cite
Rojas Suárez, K., & Rojas Espinoza, L. (2015). Adherence and its impact on the reduction of lipid peril of patients seen in the form of telemedicine at a state university in Costa Rica. UNED Research Journal, 7(2), 137–142. https://doi.org/10.22458/urj.v7i2.1137
License
Copyright is shared by the authors and the journal; contents can be reproduced if the source and copyright are acknowledged according to the Open Access license CC BY 4.0. Self-storage in preprint servers and repositories is allowed for all versions. We encourage authors to publish raw data and data logs in public repositories and to include the links with all drafts so that reviewers and readers can consult them at any time.
The journal is financed by public funds via Universidad Estatal a Distancia and editorial independence and ethical compliance are guaranteed by the Board of Editors, UNED. We do not publish paid ads or receive funds from companies.