Invasive potential of the Eurasian cricket Acheta domesticus (Orthoptera: Gryllidae) in Costa Rica.
Keywords:
Cricket, Protocol, Invasive, Life zones
Abstract
Introduction: The high nutritional value of insects, together with the facilities in the means and resources for their reproduction, has led to the consideration of the massive production of these organisms to complement the production of animal protein, and perhaps in the future replace it. However, this potential may be limited by various factors in each country's import considerations. In Costa Rica, the importation of fauna has several elements to consider, of which, the current impossibility of introducing shipments of insect species such as the domestic cricket (Acheta domesticus) stands out. Primarily, this impossibility stems from the need to present a technical-scientific study on the invasive potential of the species to be imported, in accordance with article 115 of the Wildlife Conservation Law. When the regulation was established, it indicated the publication of the protocol for the technical-scientific study as derogatory and transitory, but to date it has not been published. Objective: For this reason, a technical-scientific study protocol on the invasive potential of the domestic cricket A. domesticus was reviewed and proposed, using the national species Anurogryllus muticus as a study model. Methods: Of the 12 sensu Holdridge life zones in the country, only 3 could be considered viable for A. domesticus, so the technical-scientific study model was established with simulation of these life zones. Results: According to the environmental and climatological conditions of the country, it is considered that it is unlikely that A. domesticus will survive and prevail in the event of its introduction, based on the model applied to A. muticus. 
References
Apolo-Arévalo, L., & Lannacone, J. (2015). Crianza del grillo (Acheta domesticus) como fuente alternativa de proteínas para el consumo humano. Scientia, 17(17). https://doi.org/10.31381/scientia.v17i17.389

Arias, J., Bonilla, F., & Sasa, M. (2016). Desarrollo de la herpetocultura en Costa Rica: Situación actual de herpetarios y manejo ex situ de reptiles y anfibios. Revista de Ciencias Ambientales, 50(1), 1-23. https://doi.org/10.15359/rca.50-1.1

Bowles, D. E. (2018). Introduced Japanese burrowing cricket (Orthoptera: Gryllidae: Velarifictorus (Velarifictorus) micado) range continues to expand in North America. Journal of Orthoptera Research, 27(2), 177-181. https://doi.org/10.3897/jor.27.29067

DeFoliart, G. R. (1997). An overview of the role of edible insects in preserving biodiversity. Ecology of Food and Nutrition, 36(2-4), 109-132. https://doi.org/10.1080/03670244.1997.9991510

Fiaboe, K. K. M., Peterson, A. T., Kairo, M. T. K., & Roda, A. L. (2012). Predicting the potential worldwide distribution of the red palm weevil Rhynchophorus ferrugineus (Olivier) (Coleoptera: Curculionidae) using ecological niche modeling. Florida Entomologist, 659-673. https://doi.org/10.1653/024.095.0317

Haldar, P., Das, A., & Gupta, R. K. (1999). A laboratory based study on farming of an Indian grasshopper Oxya fuscovittata (Marschall) (Orthoptera: Acrididae). Journal of Orthoptera Research, 93-97. https://doi.org/10.2307/3503431

Hanson, P. (2016). Los insectos invasores de costa rica. Biocenosis, 22(1-2). Recuperado a partir de https://revistas.uned.ac.cr/index.php/biocenosis/article/view/1255

Janzen, D. H., & Chavarría, M. T. (1991). Historia Natural de Costa Rica (No. B50/1057). San José (Costa Rica). Capitulo VII. Plantas de Costa Rica. pp.119-353.

Lee, H. J., & Loher, W. (1995). Changes in the behavior of the female short-tailed cricket, Anurogryllus muticus (De Geer) (Orthoptera: Gryllidae) following mating. Journal of insect behavior, 8(4), 547-562. https://doi.org/10.1007/bf01995326

Nakagaki, B. J., & Defoliart, G. R. (1991). Comparison of diets for mass-rearing Acheta domesticus (Orthoptera: Gryllidae) as a novelty food, and comparison of food conversion efficiency with values reported for livestock. Journal of Economic Entomology, 84(3), 891-896. https://doi.org/10.1093/jee/84.3.891

Otte, D. (2006). Eighty-four new cricket species (Orthoptera: Grylloidea) from La Selva, Costa Rica. Transactions of the American Entomological Society, 299-418. https://doi.org/10.3157/0002-8320(2006)132[299:ENCSOG]2.0.CO;2

Parajulee, M. N., Defoliart, G. R., & Hogg, D. B. (1993). Model for use in mass-production of Acheta domesticus (Orthoptera: Gryllidae) as food. Journal of economic entomology, 86(5), 1424-1428. http://doi.org/10.1093/jee/86.5.1424

Pino-Moreno, J. M., Aguilar-Piedra, H., & Paniagua-Rodríguez, F. (2014). Analisis preliminar de los insectos comestibles de Costa Rica: status actual y perspectivas. Entomología Mexicana, 1: 1028– 1033.

Quirós-Blanco, A. M., Fallas, P., & Acosta, Ó. (2019). Retos y oportunidades de los insectos comestibles como fuente de proteína sostenible en Costa Rica. https://cita.ucr.ac.cr

Roe, R. M., Clifford, C. A., & Woodring, J. P. (1985). The effect of temperature on energy distribution during the last-larval stadium of the female house cricket, Acheta domesticus. Journal of insect physiology, 31(5), 371-378. http://doi.org/10.1016/0022-1910(85)90080-0

Rumpold, B. A., & Schlüter, O. K. (2013). Potential and challenges of insects as an innovative source for food and feed production. Innovative Food Science & Emerging Technologies, 17, 1-11. http://doi.org/10.1016/j.ifset.2012.11.005

Santurino, C., García-Serrano, A., Molina García, J., Sierra Fernández, P., & Castro-Gómez, M. P. (2016). Los insectos como complemento nutricional de la dieta: fuente de lípidos potencialmente bioactivos. ANS. Alimentación, nutrición y salud, 23(2), 50-56. http://hdl.handle.net/10261/150384

Sasa, M., Chavez, G. & Porras, L. W. (2010). The Costa Rican herpetofauna: Conservation status and future perspectives. En Wilson, Larry David, Josiah H. Townsend, & Jerry D. Johnson. Conservation of Mesoamerican Amphibians and Reptiles (pp. 509–603). Eagle Mountain, Utah, United States: Eagle Mountain Publications, LC.

Van Huis, A., Van Itterbeeck, J., Klunder, H., Mertens, E., Halloran, A., Muir, G., & Vantomme, P. (2013). Edible insects: future prospects for food and feed security (No. 171). Food and Agriculture Organization of the United Nations.

von Hackewitz, L. (2018). The house cricket Acheta domesticus, a potential source of protein for human consumption. Swedish University of Agricultural Science, Department of Molecular Sciences. 2018:17. Online Publication: https://stud.epsilon.slu.se

Walker, T. J., & Whitesell, J. J. (1982). Singing schedules and sites for a tropical burrowing cricket (Anurogryllus muticus). Biotropica, 220-227. http://doi.org/10.2307/2388028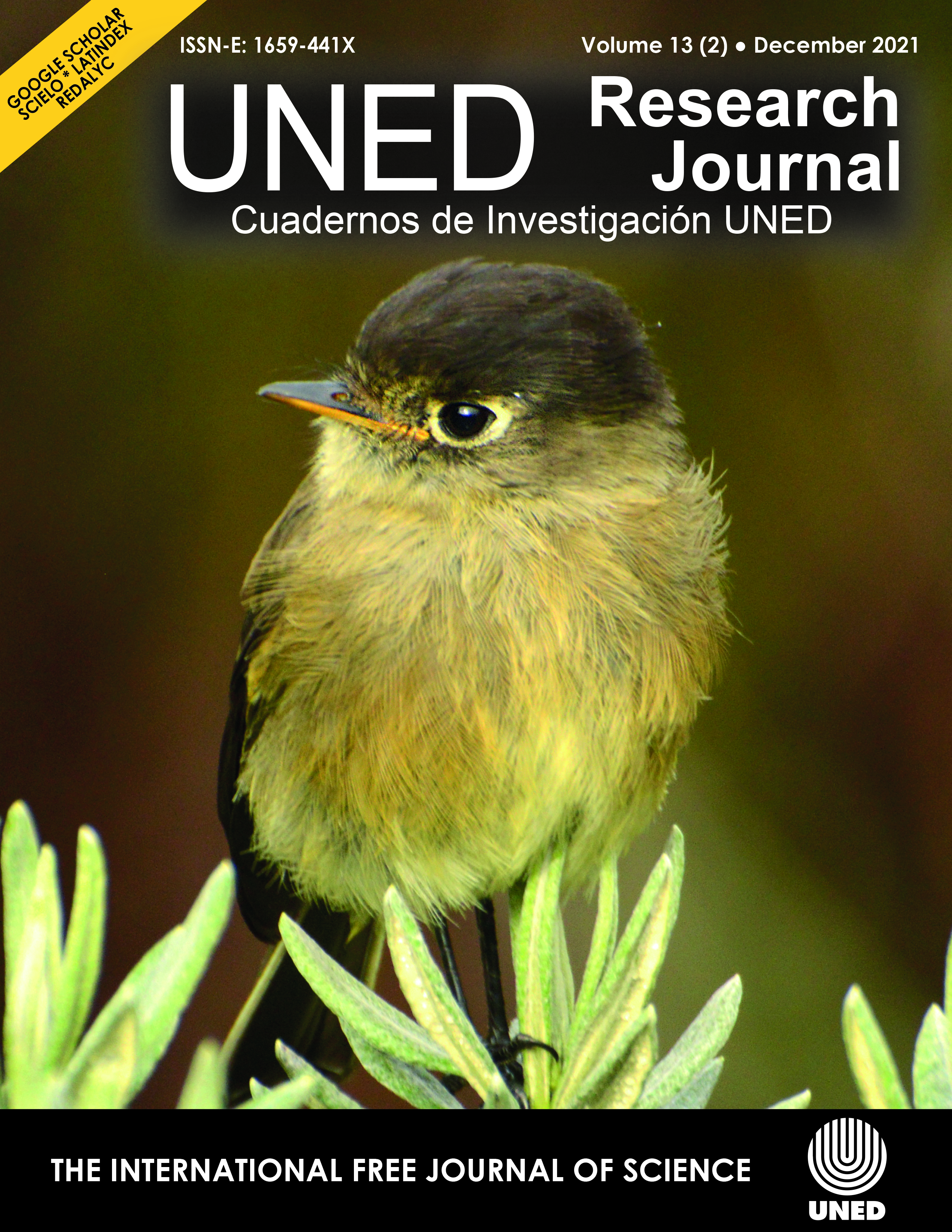 How to Cite
Kobe Solares, A., & Murillo Hiller, L. R. (2021). Invasive potential of the Eurasian cricket Acheta domesticus (Orthoptera: Gryllidae) in Costa Rica. UNED Research Journal, 13(2), e3259. https://doi.org/10.22458/urj.v13i2.3529
License
Copyright is shared by the authors and the journal; contents can be reproduced if the source and copyright are acknowledged according to the Open Access license CC BY 4.0. Self-storage in preprint servers and repositories is allowed for all versions. We encourage authors to publish raw data and data logs in public repositories and to include the links with all drafts so that reviewers and readers can consult them at any time.
The journal is financed by public funds via Universidad Estatal a Distancia and editorial independence and ethical compliance are guaranteed by the Board of Editors, UNED. We do not publish paid ads or receive funds from companies.