First record brown four-eyed opossum marsupial in Honduras ( Rio Platano Biosphere Reserve )
Keywords:
Brown four-eyed Opossum, Didelphidae, Marsupialia, Nuclear Central America.
Abstract
It is adding a new record of marsupial to Honduras, Metachirus nudicaudatus, and the second record to Nuclear Central America, based in two specimens, male and female. These increments to nine species and six the generas of didelphids for the country. The female without a pouch that it is present in other Honduras didelphids, execpt in marmosa. Specimens come from the community of Baltiltuk, Platano River Biosphera Reserve (RBRP), Gracias a Dios Department. There are discrepancies in the litterature about its distribution in México and Central America, some authors mention its from Honduras, but without catalogue record, hightligthin the importance of the record of the specie.
References
Allen, J. A. (1908). Mammals from Nicaragua. Bulletin American Museum of Natural History, XXIV, 647–699.
Benshoof, L., Yates, T. L., & Froehlich, J. W. (1984). Noteworthy records of mammals from eastern Honduras. Southwestern Naturalist 29, 511-514.
Braum, B. E. (2004). Atlas of New World Marsupial. Fieldiana Zool., 102, 1-138.
Eisenberg, J. F., & Redford, K. H. (1999). Mammals of the Neotropics: The central Neotropics. Volume 3. Ecuador, Bolivia, Brazil. Chicago: University of Chicago Press.
Gardner, A. L. & Dagosto, M. (2007). Tribe Metachirini. En Gardner, A. L. (Ed.), Mammals of South America, Volume 1 Marsupials, Xenarthrans, Shrewes, and Bats (pp. 35-39). Chicago and London: The University of Chicago Press.
Gardner, L. A., (2005). Order Didelphimorphia. En Wilson, D. E. & Reeder, D. M. (Eds.), Mammal species of the world Taxonomic and Geographic reference (pp. 3-18). Washintong and London: Smithsonian Institution Press.
Goldman, E. A. (1911). Three new mammals from Central and South America. Proc. Biol. Soc. Washington XXIV, 237–240.
Goldman, E. A. (1912). New mammals from eastern Panama. Smithsonian Miscellaneus Collections, 60 (2), 1-20.
Goodwin, G. G. (1942). Mammals of Honduras. Bulletin of the American Museum of Natural History, 79, 107-195.
Hall, E. R. (1981). The mammals of North America. Vol I. New York: John Wiley.
McCarthy, T. J., & Pérez, S. G. (2006). Land and Fresh-Water Mammals of Guatemala: Faunal Documentation and Diversity. En Cano, E. (Ed.), Biodiversidad de Guatemala. Volumen I (pp. 625-674). Guatemala: Universidad del Valle de Guatemala.
Medellín, R. A., Guadalupe, C. Z., Apamar, C. M., & Ramón, O. G. (1992). Noteworthy Records of three mammals from Mexico. Southwestern Naturalist, 37 (4), 427-429.
Miranda, C. L., Rossi, R. V., de Sousa e Silva junior, J., Lima, M. G. M., & Santos, M. P. D. (2009). Mammalia, didelphimorphia, didelphidae, metachirus nudicaudatus, municipality of José de Freitas, state of Piaui, northeastern Brazil: Distribution extension. Check List, 5 (2), 360-363.
Owen, J. G., & Giron, L. (2012). Revised checklist and distributions of Land Mammals of El Salvador. Occasional Papers Museum Texas Tech University, (310), 1-32.
Reid, F. A. (1997). A field guide to the mammals of Central America and southeast Mexico. New York: Oxford University Press.
Smith, P. (2010). Didelphidae. Fauna Paraguay Handbook of the Mammals of Paraguay. (1a), 1-35.
True, F. W. (1888). On the mammals collected in eastern Honduras in 1887 by Mr Charles H. Townsend with a description of a new subspecies of Capromys from little Swan Island. Proceeding of United States National Museum, 11, 469-473.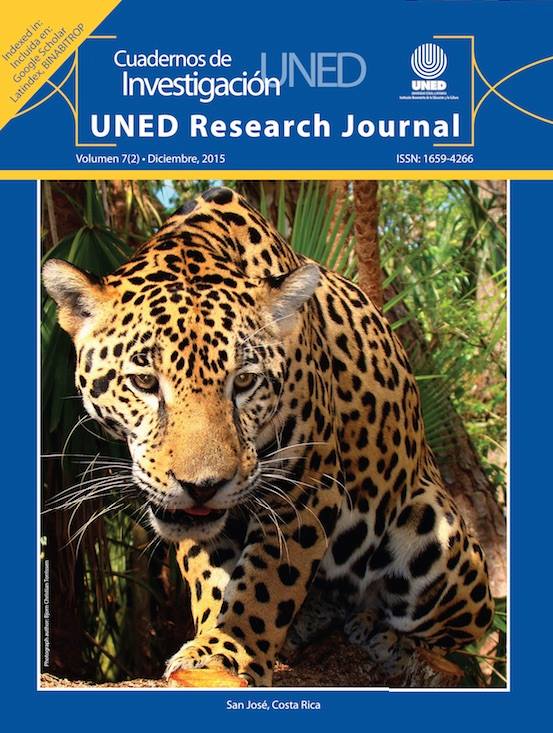 How to Cite
Mérida, J. E., & Cruz, G. A. (2015). First record brown four-eyed opossum marsupial in Honduras ( Rio Platano Biosphere Reserve ). UNED Research Journal, 7(2), 337–339. https://doi.org/10.22458/urj.v7i2.1163
License
Copyright is shared by the authors and the journal; contents can be reproduced if the source and copyright are acknowledged according to the Open Access license CC BY 4.0. Self-storage in preprint servers and repositories is allowed for all versions. We encourage authors to publish raw data and data logs in public repositories and to include the links with all drafts so that reviewers and readers can consult them at any time.
The journal is financed by public funds via Universidad Estatal a Distancia and editorial independence and ethical compliance are guaranteed by the Board of Editors, UNED. We do not publish paid ads or receive funds from companies.