Extension of the genus Pseudopeas (Dysopeas) (Gastropoda: Subulinidae) from Venezuela to Nicaragua
Keywords:
Subulinidae, Pseudopeas, Dysopeas, genus extension, Nicaragua.
Abstract
The study of Nicaraguan land snails is fragmentary. Recent sampling produced specimens of an undetermined species of Pseudopeas Putzeys, 1899. This genus was segregated from Opeas Albers, 1850 by reason of its prominent rib sculpture and later re-de- scribed by Pilsbry (1906) for the characteristic spiral sculpture of its nepi- onic whorls. Baker (1927) named a new subgenus Dysopeas for species where the spiral sculpture covers the entire shell, not only the nepionic whorls. The Nicaragua specimens show nepionic and body sculptures that precisely match descriptions and illustrations given by Pilsbry and Baker for the complex Pseudopeas/Dysopeas. Since 1999, a total of 160 specimens have been collected from El Castillo on Río San Juan, Isletas de Granada and the Universidad de las Regiones Autónomas de la Costa Caribe Nicaragüense (URACCAN) in Blue elds. Similitude with some sculpture traits and protoconch development with species of Spiraxidae, Subulinidae or Lamellaxis might cause confusion in the determination of Pseudopeas. Besides the critical protoconch sculpture and pro le, additional discriminatory di erences from these look-alikes are dimensions, sculpture pattern and crystalline structure. 
References
aker, B. (1927). The mollusca collected by the University of Michigan in Venezuela. Oc. Pap. Mus. Zool. 182:10 –12.
Baker, B. (1939). Micromena Baker. Nautilus 53: 11–14.
Callil, C. & Mansur, M. (2005). Ultrastructural analysis of the shells of Anodontites trapesialis (Lamarck) and Anodontites elongatus (Swaison) (Mollusca, Bivalvia, Etherioidea) from the Mato Grosso Pantanal Region, Brazil. Rev. Bras. Zool. 22: 3.
Goodrich, C. & van der Schalie, H. (1937). Mollusca of Petén and North Alta Vera Paz, Guatemala. University of Michigan, Museum of Zoology. Misc. Pub. 34: 23–24.
López, A. (1992). Shelling in Nicaragua's El Castillo. Hawaiian Shell News, 40:1,4.
López A. & Pérez, M. (1996). Nuevos registros de gastrópo- dos advenedizos para la malacofauna continental de Nicaragua. Rev. Biol. Trop. 44: 302–303.
López A. & Pérez, M. (1998). Nuevos registros de caracoles ter- restres en Nicaragua. Rev. Biol. Trop. 46: 167–168.
López, A. & Urcuyo, J. (2009). Moluscos de Nicaragua II: Gastrópodos. Araucaria, Managua, Nicaragua.
Miller, K. (1879). Opeas Viviparum. Mal.Blatt. 25:197.
Morelet, A. (1885). Coquilles terrestres et uviatiles de l'Afrique
équinoxiale. Journal de Conchyliologie 33: 20-33.
Naggs, F. (1994). The reproductive anatomy of Paropeas acha- tinaceum and a new concept of Paropeas. Journal Moll. Stud. 60:175–191.
Pérez, M. (1999). Estudio Taxonómico y Biogeográ co Preliminar de la Malacofauna Continental.
Continental (Mollusca: Gastrópoda) del Pací co de Nicaragua, p. 260.
Pilsbry, H.A. (1906). Manual of Conchology, (2)18; (70):65–160, Taf. 11-20.
Putzeys. (1899). Diagnoses de quelques coquilles et d'un sous- genre nouveau provenant de l'Etat indépendant du Congo. Ann. Soc. Malac. Belg., Bull. 34: LV - LX.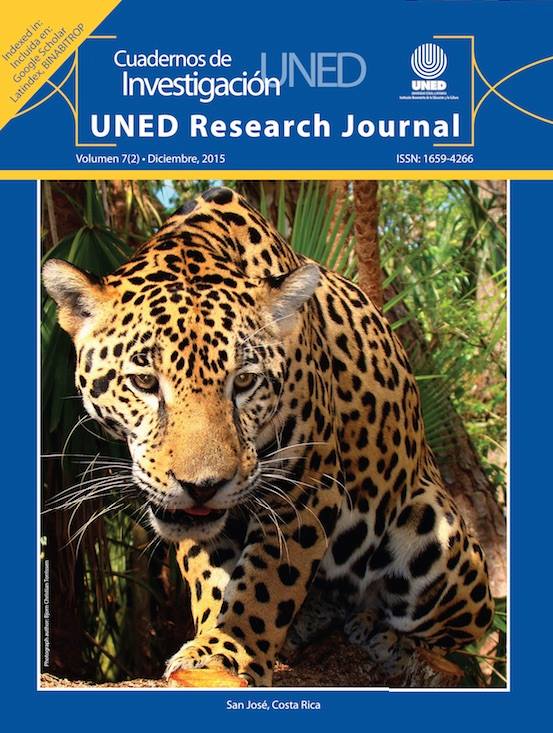 Downloads
How to Cite
López, A., Urcuyo, J., & Vega, G. (2015). Extension of the genus Pseudopeas (Dysopeas) (Gastropoda: Subulinidae) from Venezuela to Nicaragua. UNED Research Journal, 7(2), 333–339. https://doi.org/10.22458/urj.v7i2.1162
License
Note: This abstract contains an incorrect copyright due to technical issues. Authors who publish with this journal agree to the following terms: Authors retain copyright and grant the journal right of first publication with the work simultaneously licensed under a Creative Commons Attribution License that allows others to share the work with an acknowledgement of the work's authorship and initial publication in this journal
All journal contents are freely available through a CC BY 4.0 license.
CC BY 4.0 is a Creative Commons: you can copy, modify, distribute, and perform, even for commercial reasons, without asking permission, if you give appropriate credit.
Contents can be reproduced if the source and copyright are acknowledged according to the Open Access license CC BY 4.0. Self-storage in preprint servers and repositories is allowed for all versions. We encourage authors to publish raw data and data logs in public repositories and to include the links with all drafts so that reviewers and readers can consult them at any time.
The journal is financed by public funds via Universidad Estatal a Distancia and editorial independence and ethical compliance are guaranteed by the Board of Editors, UNED. We do not publish paid ads or receive funds from companies.