Tree trunk lichen cover and its relation with cardinal orientation in parks of the Greater Metropolitan Area of Costa Rica.
Keywords:
Trade winds, temperature, precipitation, biomarkers, dry season and rainy season.
Abstract
The geographical position of Costa Rica at 11 ° north latitude produces varying temperatures and two seasons, wet and dry, that are clearly established. Tree trunk lichens are greatly affected by humidity and air pollution, factors that can differ according to cardinal orientation of the substrate. We studied eight trees in each of the ten municipal parks in three central provinces: Alajuela, Cartago and San José. With a template we measured lichen cover, regardless of species during the dry and rainy seasons. The highest cover was on the north side of trunks and in the rainy season.
References
Aguirre, C., & Chamba, C. (2010). Patrones de comportamiento de 10 especies vegetales del páramo del Parque Nacional Podocarpus ante escenarios de cambio climático. Tesis para optar al grado de Ingeniero Forestal. Universidad Nacional de Loja, Ecuador.
Alvarado, M., & Foroughbakhch, R. (2002). El cambio climático y la fenología en las plantas. Universidad Autónoma de Nuevo León Monterrey, México.
Anderson, E.R., Cherrington, E.A., Flores, A.I., Pérez, J.B., Carrillo R., & Sempris, E. (2008). Potential impacts of climate change on biodiversity in Central América, México, and the Dominican Republic." CATHALAC/USAID, Panamá, Panamá. 105 pp.
Aptroot, A. & Herk, C. (2007). Futher evidence of the effects of global warming on lichens particularly those with Trentepholia phycobionts. Enviromental pollution (146), 293 – 298.
Barreno, E. & Pérez, S. (2003). Líquenes de la Reserva Natural Integral de Muniellos, Asturias. Ed. Consejería de Medio Ambiente, Ordenación del Territorio e Infraestructuras del Principado de Asturias y KRK Ediciones. Oviedo. Serie Naturaleza, Cuadernos de Medio Ambiente, 5. 522.
Cascante-Marín, A. (2012). Ubicación, relieve y clima de la zona de El Rodeo. San José, Costa Rica. Brenesia, 77, 15-22.
Cifuentes, L., Moreno, F., & Arango, D. A. (2010). Fenología reproductiva y productividad de Oenocarpus bataua (Mart.) en bosques inundables del Chocó Biogeográfico, Colombia. Biota Neotrop., 10(4), 101-110.
Contreras, A & Méndez-Estrada, V.H. (2014). Fenología de la planta medicinal Valeriana prionophylla (Valerianaceae) en páramos de Costa Rica, Universidad Estatal a Distancia, San José, Costa Rica; Cuadernos de Investigación, 6(2): 223-231.
Corrales, L. (2010). Efectos del cambio climático para Centroamérica. Cuarto informe Estado de la Región. San José, Costa Rica.
Eguiguren, P. & Ojeda, T. (2009). Línea base para el monitoreo a largo plazo del impacto del cambio climático, sobre la diversidad florística en una zona piloto del ecosistema páramo del Parque Nacional Podocarpus. Tesis para optar al grado en Ingeniería Forestal. Universidad Nacional de Loja. Ecuador. 101 pp.
Hawksworth, D., Iturriaga, T. & Crespo, A. (2005). Líquenes como bioindicadores inmediatos de contaminación y cambios medio-ambientales en los trópicos. Madrid. Rev. Iberoam. Micol., 22, 71-82.
Herrera, T.C. & Peñafiel, H.M. (2013). Estudio comparativo de líquenes en el área urbana y sitios rurales de vegetación remanente de la ciudad de Ibarra-Imbabura, como indicadores de la calidad atmosférica. Tesis de Ingeniero en Recursos Naturales Renovables. Ibarra, Ecuador, Universidad Técnica del Norte, Facultad de Ingeniería en Ciencias Agropecuarias y Ambientales.
Holtz, I. (2003). Diversity and ecology bryophytes and macrolichens in primary and secundary montane Quercus forest, Cordillera de Talamanca, Costa Rica. PhD. Thesis, University of Gotingen, Gotingen Alemania.
IMN (Instituto Meteorológico Nacional). (2008). Cambio climático. Segunda Comunicación Nacional. Clima, variabilidad y cambio climático en Costa Rica. Instituto Meteorológico Nacional, Comité Regional de Recursos Hídricos. IMN-MINAE. San José, Costa Rica.
Jovan, S. (2008). Lichen bioindication of biodiversity, air quality, and climate: baseline results from monitoring in Washington, Oregon, and California, Estados Unidos, United States Departament of Agriculture – Forest Service.
Lijteroff , R., Lima, L.& Prieri, B. (2009). Uso de líquenes como bioindicadores de contaminación atmosférica en la ciudad de San Luis, Argentina. Rev Int Contam Ambient. 25 (2), 111-120.
Lizano, O. (2007). Climatología del viento y oleaje frente a las costas de Costa Rica. Escuela de Física, Universidad de Costa, San José, Costa Rica. Ciencia y Tecnología, 25 (1-2), 43-56.
Méndez, O. I. & Fournier, L. A. (1980). Los líquenes como indicadores de la contaminación atmosférica en el área metropolitana de San José, Costa Rica. Rev. Biol. Trop., 28 (1), 31-39.
Mendoza, D. (2012). Contribución de las costras biológicas en la función del ecosistema, su cobertura y distribución espacial en un gradiente de vegetación en el altiplano mexicano. Seminario de Posgrado. 359-369
Molina, J.R & Probanza, A. (1992). Pautas de distribución de biocenosis liquénicas epifíticas de un robledal de Somosierra (Madrid). Edit. Universidad Complutense. Bot. Complutensis 17, 65-78.
Monge-Nájera, J., González, Ma.I., Rivas, M. & Méndez, V.H. (2002). Twenty years of lichen cover change in a tropical habit (Costa Rica) and its relation with air pollution. Rev. Biol. Trop., 50(1), 309-319.
Muñoz, A.C., Fernández, W., Gutiérrez, J. A & Zárate, E. (2002). Variación estacional del viento en Costa Rica y su relación con los regímenes de lluvia. Top. Meteoro. Oceanog. 9 (1), 1-13.
Neurohr, E., Monge-Nájera, J.& González , M.I. (2011). Air pollution in a tropical city: the relationship between wind direction, season and lichen bio-indicators in San José, Costa Rica. Revista de Biología Tropical 59 (2), 899-905.
Pérez, A. & Watteijne, B. (2009). Estructura de una comunidad de líquenes y morfología del género Sticta (Stictaceae) en un gradiente altitudinal. Acta Biol. Colomb. 14 (3), 159-172.
Pinzón, M. & Linares, E. (2006). Diversidad de líquenes y briófitos en la región suxerofítica de la Herrera, Mosquera (Cundinamarca-Colombia). Caldasia, 28 (2), 243-257.
Riquelme, F. S. (2008). Evaluación del uso de líquenes como indicadores biológicos de contaminación atmosférica en la Quebrada de la Plata, región metropolitana. Universidad de Chile, Facultad de Ciencias Forestales, Escuela de Ciencias Forestales, Departamento de Manejo de Recursos Forestales. Tesis para optar por el título de Ingeniero Forestal.
Rodríguez, J.R. (2011). Flora y fauna de Costa Rica. San José, Costa Rica, EUNED.
Root, H. & B. McCune. (2012). Surveying for biotic soil crust lichens of shrub steppe habitats in the Columbia Basin. North American Fungi, 7 (7), 1-21
Rubiano, L. J. & Chaparro, M. (2006). Delimitación de áreas de isocontaminación atmosférica en el campus de la Universidad Nacional de Colombia mediante el análisis de bioindicadores (líquenes epifitos). Bogotá, Colombia. Acta Biológica Colombiana, 11 (2), 87-102.
Sáenz, A., Flores, F., Madrigal, L. & Di Stefano, J.F. (2007). Estimación del grado de contaminación del aire por medio de la cobertura de líquenes sobre troncos de árboles en la ciudad de San José, Costa Rica. Brenesia, 68 (68), 29-35.
Schipperges, B. (1992). Patterns of CO2 gas-exchange and thallus water content in Arctic lichens along a ridge profile near Ny Alesund, Svalbard. Polar Research, 11(2), 47-68.
Solano, J. & Villalobos, R. (2001). Aspectos fisiográficos aplicados a un bosquejo de regionalización geográfico climática de Costa Rica. Tópicos Meteorológicos y Oceanográficos, 8(1), 26-39.
Talora, D., & Morellato, P.C. (2000). Fenología de espécies arbóreas em floresta de planície litorânea do sudeste do Brasil. São Paulo. Revta. Brasil. Bot., 23(1), 13-26.
Vargas, G. 2010. Plantae. San José, Costa Rica, EUNED.
Vásquez, M., J. Gracia, J. Vaswani, J.J. Santana, F.J. Santana & J.E. González. (2006). Líquenes del género Xanthoria como indicadores biológicos en la bioacumulación de azufre en el sureste de Gran Nanaria-España. Zaragoza, España. III Congreso de Ingeniería Civil, Territorio y Medio Ambiente.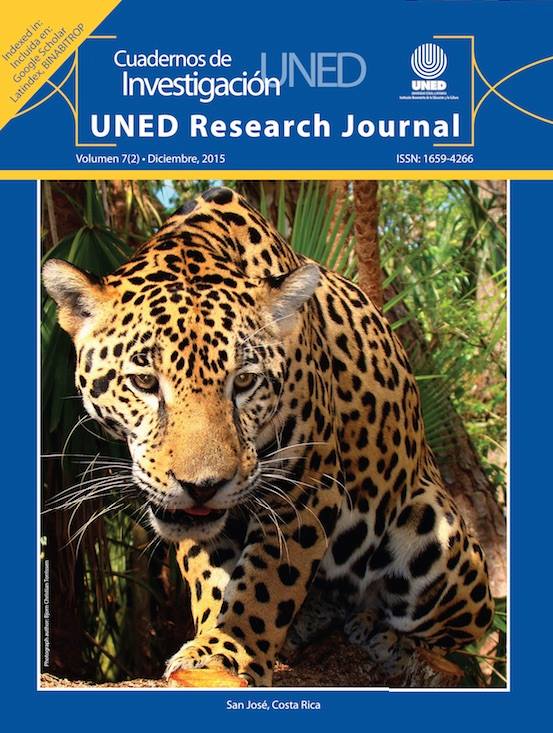 How to Cite
Méndez, V. H., & Campos, C. A. (2015). Tree trunk lichen cover and its relation with cardinal orientation in parks of the Greater Metropolitan Area of Costa Rica. UNED Research Journal, 7(2), 313–311. https://doi.org/10.22458/urj.v7i2.1159
License
Copyright is shared by the authors and the journal; contents can be reproduced if the source and copyright are acknowledged according to the Open Access license CC BY 4.0. Self-storage in preprint servers and repositories is allowed for all versions. We encourage authors to publish raw data and data logs in public repositories and to include the links with all drafts so that reviewers and readers can consult them at any time.
The journal is financed by public funds via Universidad Estatal a Distancia and editorial independence and ethical compliance are guaranteed by the Board of Editors, UNED. We do not publish paid ads or receive funds from companies.