Polymeric compounds materials with polyethylene ( LDPE) and fibers Maclura tinctoria tree ( Moraceae )
Keywords:
maclura tinctoria, mora tree fibers, polymeric composite materials, LDPE, characterization.
Abstract
Costa Rica has extensive areas of tropical forests that, managed with care and knowledge, can provide renewable raw materials and conserve biodiversity. Here we characterize the branches, leaves and bark of the "Mora Tree", Maclura tinctoria. We manufactured composite polymeric materials and applied infrared spectrometry, liquid chromatography, optical microscopy, and the analysis of thermal and mechanical properties. We found polyphenols in all parts of the tree. The natural substrate increases crystallization temperature and reduces the crystallinity of low density polyethylene (LDPE). The elasticity modulus is higher for the composite material than for the LDPE. The fibers of this species are a promissing alternative for new products and to reduce the environmental impact of traditional polymeric materials.
References
Asgary, S., Ali Naderi, G., Sarraf-Zadegan, N & Vakili, R. (2002).The inhibitory effects of pure flavonoids on in vitro protein glycosylation. Journal of Herbal Pharmacotherapy, 2 (2): 47–55
Berg,C.C. (2001) "Moreae, Arocarpeae, and Dorstenia (Moraceae) with introductions to the family and Ficus and with additions and corrections to Flora Neotropica Monograph 7", Organization for Flora Neotropica, Fl. Neotrop. Monogr.,83
Boutelje, J. B. (1980). Encyclopedia of world timbers, names and technical literature, Swedish Forest P roducts Research Laboratory.
Brako L, J. L. Zarucchi. (1993). Catalogue of the Flowering Plants and Gymnosperms of Peru. Monogr. Syst. Bot. Missouri Bot. Gard., 45: 1257.
Cioffi, L., Morales Escobar, A., Braca, N., De Tommasi,J. ( 2003). Antioxidant chalcone glycosides and flavanones from Maclura (Chlorophora) tinctoria. J. Nat. Prod. Aug; 66(8):1061-1064.
El-Sohly,H.N.,Joshi, A., Li, X.-C. & Ross S.A. (1999). Flavonoids from Maclura tinctoria, Phytochemistry, 52: 1, 141.
Esquivel,H ., Ibrahim,M., Harvey C. A. , Villanueva, C., Benjamin, T & Sinclair, F. L. (2003) Agroforestería en las Américas, 10 (39-40).
Muñoz ,A., Ramos escudero ,D., Alvarado Ortiz ,C & Castañeda, B. (2007).Evaluación de la capacidad antioxidante y contenido de compuestos fenólicos en recursos vegetales promisorios. Rev.Soc.Quim.Perú, 73: 142.
Pantyukhov P., Monakhova T., Kolesnikova N., Popov A. & Nikolaeva S. (2012). The oxidative and biological destruction of composite materials based on low-density polyethylene and lignocellulosic fillers. Chemistry& chemical technology, 6 (3): 349.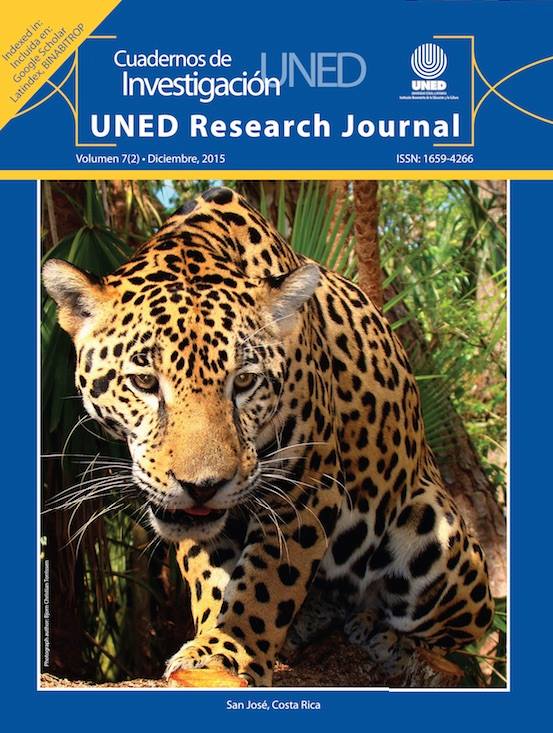 How to Cite
Nikolaeva, S., Saavedra-Arias, J., Sáenz-Arce, G., Salas, R., Vega Baudrit, J., Rodríguez, G., & Pantyukhov, P. (2015). Polymeric compounds materials with polyethylene ( LDPE) and fibers Maclura tinctoria tree ( Moraceae ). UNED Research Journal, 7(2), 209–216. https://doi.org/10.22458/urj.v7i2.1147
License
Copyright is shared by the authors and the journal; contents can be reproduced if the source and copyright are acknowledged according to the Open Access license CC BY 4.0. Self-storage in preprint servers and repositories is allowed for all versions. We encourage authors to publish raw data and data logs in public repositories and to include the links with all drafts so that reviewers and readers can consult them at any time.
The journal is financed by public funds via Universidad Estatal a Distancia and editorial independence and ethical compliance are guaranteed by the Board of Editors, UNED. We do not publish paid ads or receive funds from companies.