Maps estimates of atmospheric corrosion of low alloy steel in Costa Rica
Keywords:
map, corrosion, atmospheric, low alloy steel, Costa Rica, ISO 9223.
Abstract
The Corrosion maps used are to display quickly the different situations in a country. These maps developed are for low alloy steel in Costa Rica depending on climatic data and pollutant levels, considering the different regulations associated with ISO 9223 and models developed by the Center for Research in Corrosion (CICorr). The atmosphere in Costa Rica has high rates of Brooks, considered very corrosive. The corrosion controlling atmospheric parameters are the relative humidity (RH) and Wetting Time (TWH) associated with low levels of pollution and rural type atmospheres. The corrosion rates are between 25 and 80μm*yr-1 (Class 3 and 4 according to ISO 9223). Local models associated with the controlling parameters are more suitable for estimating the corrosion according to ISO 9223.
References
ASTM A36/A36M. (2012). Especificación Normalizada para Acero al Carbono Estructural. West Conshohocken, PA, USA: ASTM.
Brooks, C. (1950). Climate in everyday life. Londres: Dent.
British Standards Institution (BS) 1747 part 5: 1972. (Reapproved 1991). Methods for the measurement of air pollution.Directional dust gauges.
Chico, B., Otercr, E., Mariaca, L., & Morcillo, M. (1998). La corrosion atmosferica marina. Efecto de la distancia a la costa. Revista Metalurgica 34 , 71-77.
Corrosion y Proteccion de Metales en las Atmosferas de Iberoamerica, Parte I: Mapas Iberoamericanos de Corrosion Atmosferica (MICAT)1998Madrid, EspañaPrograma CYTED
Duarte, E., & Fernandez, E. (2010). Lluvia acida en volcanes de Costa Rica. Heredia: OVSICORI -UNA.
Esri. (2013). Arc GIS Resourses. Obtenido de esri: http://resources.arcgis.com/es/home/
Feliu, S., Morcillo , M., & Feliu, S. (1993). The prediction of atmospheric corrosion from meteorological and pollution parameters, I Annual Corrosion. Corrosion Science 34 (3), 403-4014.
Garita, L., Rodríguez Yáñez, J., & Robles, J. (2014). Modelado de la Velocidad de Corrosión de Acero de baja aleación en Costa Rica. Revista Ingenieria , (24), 2, 79-90.
Hall, D., Upton, S., & Marsland, G. (1993). Improvements in dust gauge design, Cap. 11. En Mesurement of Airborne Pollutants . Butterworth Heinemann: Coulling.
ISO 9223:1992. (1992). Corrosion of Metals and Alloys - Corrosivity of Atmospheres - Classification. Ginebra, Suiza: ISO.
ISO 9223:2012. (2012). Corrosion of Metals and Alloys - Corrosivity of Atmospheres - Classification. Ginebra, Suiza: ISO.
Larroca, S. (2013). Meteorologia al alcance de todos; Formulas por aqui… Formulas por alla. Obtenido de http://www.tutiempo.net/silvia_larocca/Temas/ecuaciones.htm
Mariaca , L., Genesca, J., Uruchurtu, J., & Salvador , L. (1999). Corrosividad Atmosferica (MICAT - Mexico). Mexico, Mexico: Plaza y Valdez.
MATLAB. (2013). MathWorks - Matlab Manual. Obtenido de http://www.mathworks.com/products/matlab/
Mikhailov, A., Tidblad, J., & Kucera , V. (2004). The classification System of ISO 9223 Standard and the Dose-Resonse Functions Assenssing the Corrosivity of Outdoor Atmospheres. Protection of Metals 40 (6) , 541-550.
Robles, J. (2013). Evaluacion de la Corrosion Atmosferica en Tres Zonas Geograficas de Costa Rica por Medio de Tecnicas Electroquimicas y Gravimetricas. Heredia, Costa Rica: Tesis de Grado para Licenciatura en Quimica Industrial, Universidad Nacional.
Rodríguez Yáñez, J. (2013). VII Congreso de la Red Latinoamericana de Ciencias Ambientales. Evaluacion de la Corrosion Atmosferica en Las Pailas, Costa Rica. Ciudad Quesada, Costa Rica.
Rosales, B. (1997). Mapa de Corrosividad Atmosferica de Argentina. Buenos Aires, Argentina: CITEFA.
Solano, J., & Villalobos, R. (2000). Regiones y Subregiones Climaticas de Costa Rica. San Jose, Costa Rica: Instituto Meteorologico Nacional.
Vera, R., Delgado, D., Araya, R., Puentes, M., Guerrero, I., Rojas, P., y otros. (2012). Construccióm de Mapas de Corrosión Atmosférica de Chile. Resultados Preliminares. Revista Latinoamericana de Metalurgia y Materiales , 32(2): 269-276.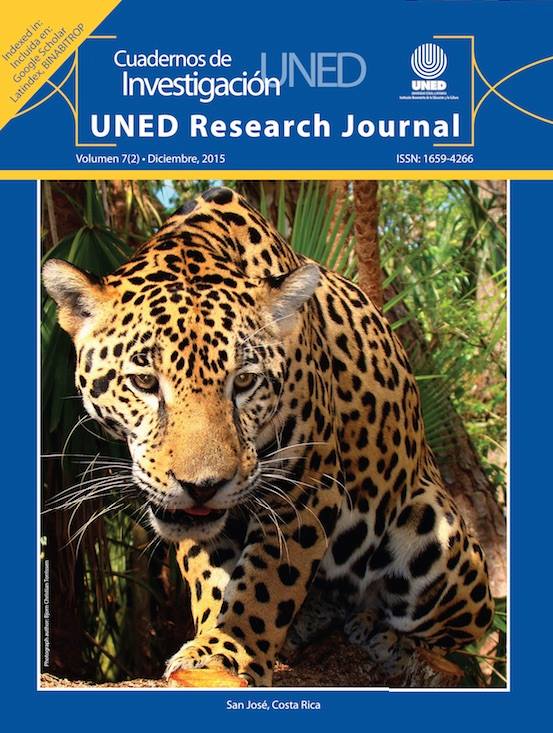 How to Cite
Rodríguez Yáñez, J., Garita Arce, L., & Saborío Leiva, E. (2015). Maps estimates of atmospheric corrosion of low alloy steel in Costa Rica. UNED Research Journal, 7(2), 181–191. https://doi.org/10.22458/urj.v7i2.1144
License
Copyright (c) 2022 UNED Research Journal
This work is licensed under a Creative Commons Attribution 4.0 International License.
Copyright is shared by the authors and the journal; contents can be reproduced if the source and copyright are acknowledged according to the Open Access license CC BY 4.0. Self-storage in preprint servers and repositories is allowed for all versions. We encourage authors to publish raw data and data logs in public repositories and to include the links with all drafts so that reviewers and readers can consult them at any time.
The journal is financed by public funds via Universidad Estatal a Distancia and editorial independence and ethical compliance are guaranteed by the Board of Editors, UNED. We do not publish paid ads or receive funds from companies.