Level of satisfaction with their life of officials of a state university in Costa Rica
Keywords:
quality of life, well-being, perception of individual needs met.
Abstract
Personal satisfaction is an indicator of life quality. Labor and country conditions have their effect, but individual factors dominate satisfaction, including family, sex life, educational level and neighborhood. I surveyed 1000 staff members of a Costa Rican public university via email. The questionnaire considered satisfaction in the personal, labor and country level. I found no gender diference in the answers, but partnered people are more satis ed that divorcees and widowers. People with steady jobs and mature age are more satis ed. Important job factors are working schedule, amount of work, salary, infrastructure and interpersonal relationships. Life satisfaction results from the interaction of the above variables, not from a single factor.
References
Alonso, M.P. (2008). Estudio comparativo de la satisfacción laboral en el personal de administración. Revista de la Psicología del Trabajo y de las Organizaciones, 24, 25-40.
Cabañero, M. M., Richart, M. M., Cabrero, G. J., Orts, C. M., Reig, F. A., & Tosal, H. B. (2004). Fiabilidad y validez de la Escala de Satisfacción con la Vida de Diener en una muestra de mujeres embarazadas y puérperas. Psicothema. 16, (3), 448-455.
Cardona, D. & Agudelo, H. (2007). Satisfacción personal como componente de la calidad de vida de los adultos de Medellín. Revista Salud Pública, 9 (4).
Droguett-Latorre, L. (2011). Rasgos psicológicos asociados al ajuste social y personal de alumnado adolescente. (Tesis Doctoral). Universidad del País Vasco. Recuperado de http://www.ehu.es/argitalpenak/images/stories/tesis/ Ciencias_Sociales/DROGUETT%20LATORRE.pdf.
Ezekiel, E., Wendler. D & Grady, C. (2000). What makes clinical research ethical?.Revista JAMA, 283 (20), 2701-2711.
Moyano, D. E. & Ramos, A.N. (2007). Bienestar subjetivo: midiendo satisfacción vital, felicidad y salud en población chilena de la Región Maule. Revista Universum (Talca), 22 (2), 177-193.
Pentz, C.J., Rojas, D., McCoy,B.M. & Vaughan, C.S. (2013). A case study in Costa Rica about personal happiness: Does health and family communication have more influence than quantity of money and material goods?. Cuadernos de Investigación UNED, 5 (1), 163-170.
Pinquiart, M. & Sorensen, S. (2000). Influences of Socioeconomic Status, Social Network, and Competence on Subjective
Well-Being in Later Life: A Meta-Analysis. Psychology and Aging, 15 (2), 187-224.
Puig, L.M., Rodríguez, A.N., Farras. F.J. & Llunch, C. M.T. (2011). Calidad de vida, felicidad y satisfacción con la vida en personas ancianas de 75 años atendidas en un programa de atención domiciliaria. Revista Latinoamericana Enfermagem, 19 (3), 2-8.
Sánchez, A. R., Méndez, C. R. (2011). Elementos mediadores de la felicidad y el bienestar subjetivo en hombres y mujeres. Revista Costarricense de Psicología, 30 (45-46), 51-56.
Stack. S. & Ross, E. J. (1998). Marital status and happiness: A17- nation study. Journal of Marriage and the Family, 60 (2), 527-535.
Soto, B. A., Arias, S.A., Azofeifa, M.A., Vargas, U.A., Céspedes, S. A., Solórzano, G.A., Medina, Q.B., Solano, M. D., Chaves, J. E., Ruiz, B.E., Corrales, B.K., Fernández, G. L., Alvarado, L.M.F., Valverde, H.M., Montenegro, M.P., Cubero, S.S., Barboza, S.T. & Mora, C.Y. (2012). Resultados de la en- cuesta actualidades 2012. Universidad de Costa Rica, Escuela de Estadística. Recuperado de http:// www.es- tadistica.ucr.ac.cr.
United Nations. (2013). World Happiness Report 2013. Recuperado de http://unsdsn.org/resources/ publications/world-happiness-report-2013/
UP-TNS Gallup.(2012). Estudio sobre felicidad, tercer informe. Universidad de Palermo. Recuperado de http://www. palermo.edu/...2012/INFORME_TNS_UP_FELICIDAD_III. pdf.
Urzúa, M. A. & Caqueo-Urízar, A. (2012). Calidad de vida: una revisión teórica del concepto. Terapia psicológica, 30 (1), 61-71.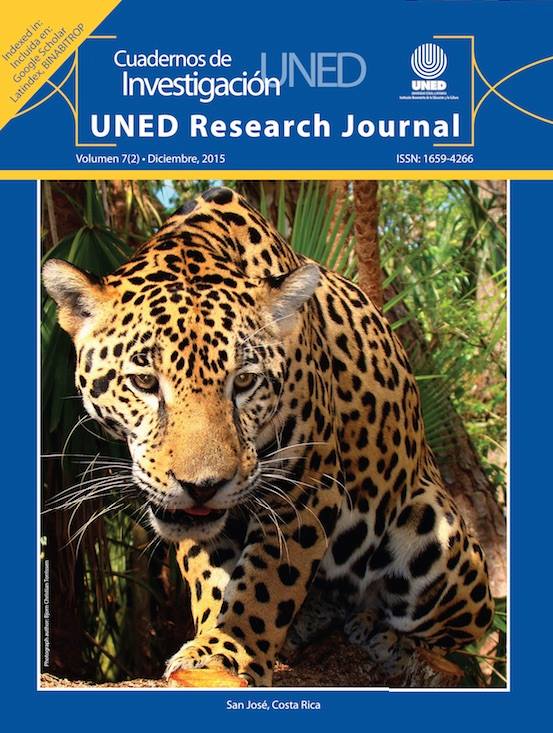 How to Cite
Arce Espinoza, L. (2015). Level of satisfaction with their life of officials of a state university in Costa Rica. UNED Research Journal, 7(2), 131–135. https://doi.org/10.22458/urj.v7i2.1136
License
Copyright is shared by the authors and the journal; contents can be reproduced if the source and copyright are acknowledged according to the Open Access license CC BY 4.0. Self-storage in preprint servers and repositories is allowed for all versions. We encourage authors to publish raw data and data logs in public repositories and to include the links with all drafts so that reviewers and readers can consult them at any time.
The journal is financed by public funds via Universidad Estatal a Distancia and editorial independence and ethical compliance are guaranteed by the Board of Editors, UNED. We do not publish paid ads or receive funds from companies.